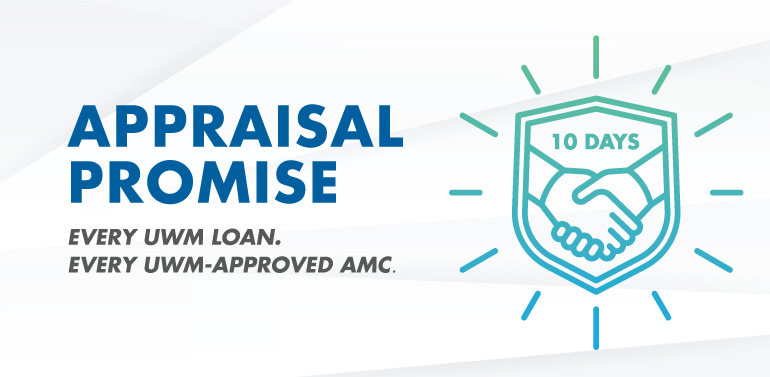 Appraisals In 10 Days Or 50% Back
Waiting for an appraisal can sometimes be the one thing that keeps you from taking full advantage of UWM's industry-leading turn times. Not anymore. With Appraisal Promise, UWM-approved AMCs promise that the appraisal will be completed in 10 business days on every loan brokered with UWM or a 50% refund of the appraisal cost will be applied automatically. The 10-day count starts the day after all of the following actions have been completed: the appraisal order is placed and the order is paid in full; and for all purchases, the supporting purchase agreement has been uploaded to the order. Every UWM loan. Every UWM-approved AMC. It's a testament to the power of our partnership and of our commitment to your success.
Current UWM-approved AMCs:
Class Valuation
Appraisal Nation
First Look Appraisals
Nationwide
Nationwide Appraisal Network (NAN)
Information is subject to change. Certain restrictions apply.