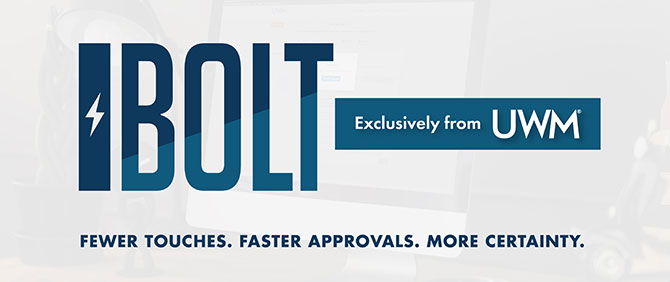 Fewer Touches. Faster Approvals. More Certainty.
The BOLT feature in EASE is an industry-first tool that clears your path for easier, faster loan approvals with UWM. It lets you obtain an initial approval on conventional and FHA loans at your convenience — in as little as 15 minutes — and resolve potential conditions that could slow your loan down.
Here are just a few of the benefits BOLT delivers:
Gives borrowers and real estate agents more certainty when making an offer
Counts toward achieving an Ultimate Loan Submission
Helps reduce underwriting touches to get your loan to closing faster
Earns you LO Partner Points
BOLT is also very easy to use:
Sit back, relax and let BOLT's data extraction, auto doc recognition and smart technology do the work for you on items like:

Driver's license
Income items
County records
And more

Receive initial approval for qualified borrowers in as little as 15 minutes — all before submitting the loan to underwriting
With BOLT, you're able to give your borrowers and real estate partners an approval on your timeline, while always keeping your loans moving forward. Join our network today to get started.
NOTE: Not eligible on Jumbo, Bank Statement, Investor Flex, HELOCs, One-Time Close New Construction, RefiNow™ or Refi Possible℠ products. Not applicable on VA and USDA loans. Information is subject to change. Certain restrictions apply. Subject to borrower approval.
WHAT THEY'RE SAYING
BOLT has been a game changer! It's increased my speeds from start to finish for each individual file I've submitted. My latest file was underwritten SAME DAY with only 1 condition for me to obtain. The loan was submitted on Monday and CTC'd on Wednesday, 2 days! The borrowers are extremely surprised at how fast the process is, which returns us with many referrals.
Brandon Baker
PrimeSource Funding, Inc.