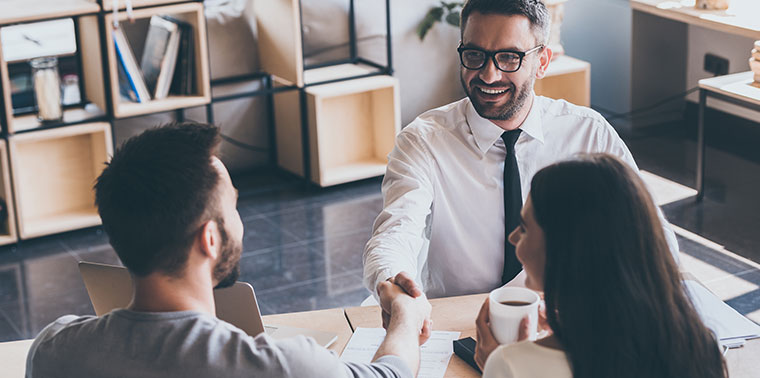 A Faster, Cheaper And Easier Closing Process
Available exclusively from UWM, TRAC (Title Review And Closing) is a process that's entirely new to the industry. It changes the way you handle title work and closing, creating a cheaper and more efficient process for all parties. When you elect TRAC, UWM will review title and closing docs, check to make sure your title is clear, then help facilitate the closing process, making it incredibly simple for you and your borrowers. Offer your borrowers significant savings with a cheaper title review process.
Choose from Reltco or Nations Title Agency to close your loans and pay a flat $350 closing fee
Available for conventional loans
TRAC process helps you get your title docs ready in an average of 1 day.
We've reduced title and closing fees by removing the need for Lender's Title Policy

An LLPA of 20bps for refinances will be applied to the loan
An LLPA of 30bps for purchases will be applied to the loan

Easy step-by-step process

For DU loans, select TRAC in Products and Pricing, choose your product and run One-Click AUS to see if the loan is eligible for TRAC
For LPA loans, select TRAC in Products and Pricing and choose your product to see if the loan is eligible for TRAC
If the loan is eligible, order TRAC through Processor Assist
Or, choose your own settlement agent to close your loan and pay up to a $500 closing fee
We give our clients the flexibility to use an agent of their choosing with an easy step-by-step process. When you choose an agent outside the three we suggest, the settlement agent can charge up to $500 for the title closing fee.
Click here for the latest Closing Indemnification Letter.
NOTE: TRAC is currently available in most states. Eligibility determined by county. Information subject to change. Certain restrictions apply. Subject to borrower approval. TRAC does not replace owner title policy.
TRAC is not available for co-ops, manufactured homes, Texas 50 (a)(6), HELOCs, PUDs (DU), Refi Possible, HomeOne, condos (DU), government and non-agency loans. Not eligible in the state of IA.